For a small or startup business, finding ways to conserve their capital is one way to ensure their survival in the trade industry. One area many have opted to save on is office machinery, particularly the photocopier. With help from companies that provide copier leasing in Redhill and most of Surrey and Sussex, such as Copy Solutions Ltd., small and medium-sized companies are able operate without making a large investment. Tammy Kelly is spot on in describing the main advantage of leasing in her article in Bay Integrated Marketing: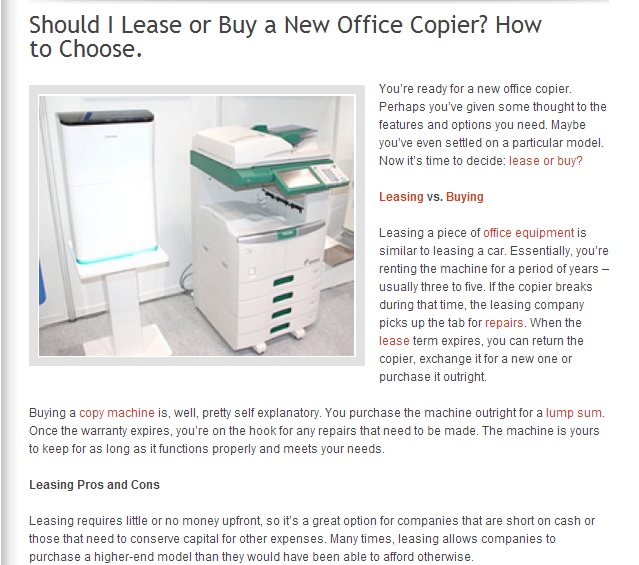 Leasing requires little or no money upfront, so it's a great option for companies that are short on cash or those that need to conserve capital for other expenses. Many times, leasing allows companies to purchase a higher-end model than they would have been able to afford otherwise.

How leasing works
It all starts with whoever is leasing the machine. First, find an outfit that isn't tied to any brand so your choices aren't limited. Second, know how long you want your lease to last; most usually last from three to five years. Within the contract period, the leasing company will take care of repairs and maintenance. Once the lease expires, you have the option to purchase the machine from the Redhill photocopier service provider. When you do, repairs and maintenance become your responsibility since you own it.
Keeping up with the copiers
Depending on the terms of the contract, you can upgrade the machine (within the contract period) to suit your growing needs, or simply to take advantage of technological advances. This is also the downside of buying a machine outright—it literally gets old after a short period.

Leasing also means that you're never stuck with out-of-date equipment. Technology changes rapidly; a copier that is state-of-the-art today might be obsolete in five years. With a lease, you can upgrade to the latest and greatest technology every few years.

Read the fine print
In finalizing the agreement, pay close attention to the terms and conditions. Be aware of what both you and the leasing company are liable for. Ensure that the monthly lease payments are within the budget and don't be late. Someday you'll be able to buy a fleet of machines once your business expands.

(Article Excerpt and Image from Should I lease or buy a new copier? How to choose, Bay Integrated Marketing, http://bayintegratedmarketing.wordpress.com/2012/04/13/should-i-lease-or-buy-a-new-office-copier-how-to-choose/)
Tags:
Copier Leasing in Redhill