For many small businesses, owning a copy machine can be a serious investment. Not only is the initial capital required to get one quite high, but the upkeep for the machine—toner, parts replacements, and preventative and corrective maintenance—can also significantly raise the overall cost of owning one.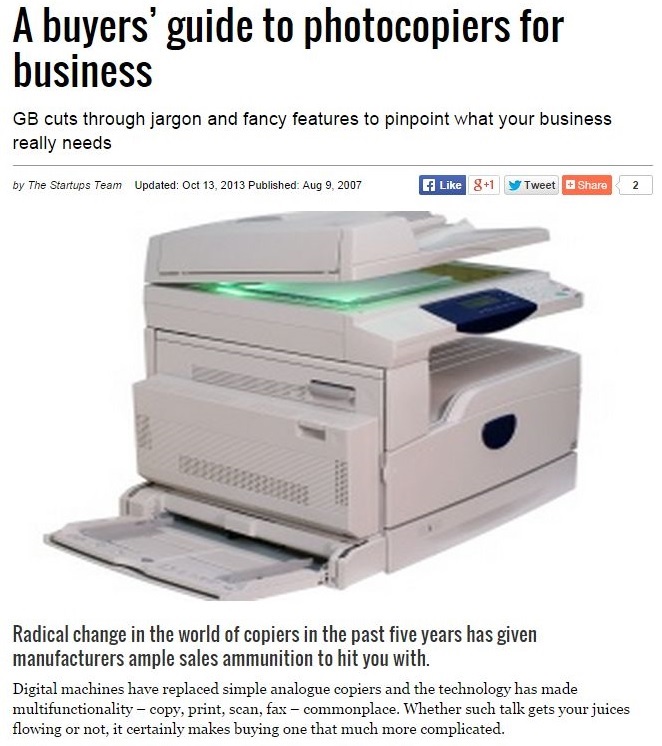 As an alternative to buying a copier, however, it might instead be a better idea to consider contracting a company that offers copier leasing to Redhill businesses, like Copy Solutions Ltd. Leasing a copy machine has many advantages especially on the financial front, as entrepreneurship service provider Startups suggested:
The majority of copiers are leased on three to five year contracts and running costs are worked into the cost of the lease, allowing for a per page price of less than 1p per copy for mono and anything up to 5p for colour. The main running cost on outright purchased machines is toner, up to £75 to replace each time. When we looked we found the cheapest Xerox black toner cartridge retailing at £41.00 excluding VAT, with the highest cartridge retailing at around £142.00 excluding VAT. A maintenance contract is absolutely vital but will be included in any lease contract. Most vendors also offer helplines and technical support to discuss faults while websites provide software downloads and technical updates.
… The advantage of a contract or leasing is that you do not need to make an initial capital investment and only pay for usage.
Making smaller, regular payments means that the overall costs are easier to manage. Payments made through a lease agreement are not affected by interest rate changes, so they can be accurately planned for according to the business's forecasted cash flow. Maintenance costs are often included in the lease contract, so the need to hire additional printer service in Redhill is either drastically reduced or completely eliminated.
In addition, leasing offers a significant tax advantage. When buying a copier, businesses can only claim up to 40% of the machine's purchase price in its first year and thereafter claim 25% of the outstanding balance. However, because leasing costs are considered a business expense, payments can be deducted from a company's tax requirements.
Finally, because a leased copier is returned to the finance provider at the end of the lease agreement, leasing allows companies to upgrade to newer machines with better technologies at a lower cost. By contrast, an owned copier can be upgraded only by purchasing another newer model.
While bigger companies might benefit from owning their own copier, leasing is by far the best way to go for small-scale enterprises. The flexibility and cost-effectiveness that the setup affords is hard to beat.
(Source: A buyers' guide to photocopiers for business, Startups)
Tags:
copier leasing Redhill