Running any business requires the right people and the proper tools. In the information age, computers, printers, photocopiers, and other kind of office equipment are indispensable. For a medium or small business, cost-saving measures such as printer and copier leasing in Redhill will definitely make their budget go a long way. This also allows businesses to upgrade their equipment and keep up with technology trends. However, there is no one-size-fits-all model for printers so it's critical to select the model that best suits the company's needs. Jonathan Rougeot, contributor for Computer Shopper, shares the basics of how to choose the right printer for your firm.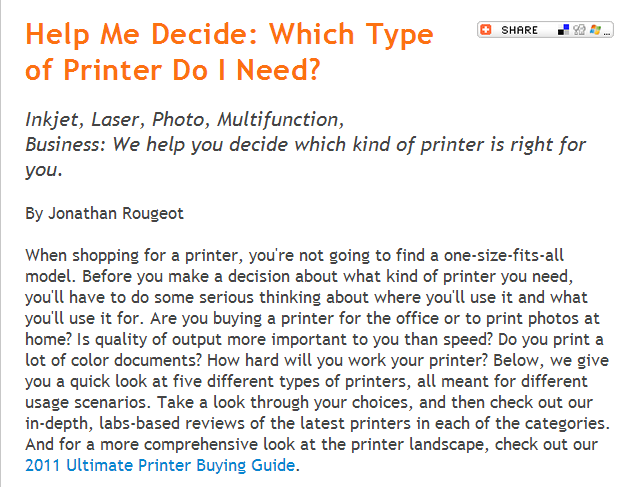 Inkjet or laser
For businesses on a budget that require colour printouts, inkjet printers are the perfect choice. The machine itself is the least expensive among printers, plus the consumable ink cartridges (black and colour) are relatively affordable. Laser printers, on the other hand, cost a bit more yet produce sharper, presentation-quality coloured printouts. The distinct advantage of laser over inkjet is the speed– laser printers have a higher duty rate (number of copies printed) than do inkjet printers. However, colour inkjet toners are quite expensive.
Multi-function or business-ready
A machine that can scan, fax, and do inkjet printing is called a multifunction printer. This is a must for a business on a budget or for home use. This device is also a space saver since it does the job of three machines. The only drawback is that it can't cope in a larger, multiple-user environment.  Business-ready machines are actually multi-function machines on steroids. They are built to function in a networked environment and can service multiple users. It goes without saying that where there is a high-performance machine, there is a high price tag. Fortunately, sales and leasing companies like Copy Solutions Limited provide printer service for Redhill businesses.
Decisions, decisions
Business owners need to estimate the following: consumption, budget, and expansion plans.  If your company plans to expand quickly, then it will pay to invest in the higher-end, heavy duty models. Consult a sales and leasing representative soonest to know how they can contribute to your business' growth.
(Article Excerpt and Image from Help Me Decide: Which Type of Printer Do I Need, Computer Shopper)
Tags:
Printer and Copier Leasing in Redhill